This year's CSTA New England regional conference is at the University of Massachusetts (Amherst) school of Education. It's a great venue. There are around 150 people here. I can remember when CSTA national conferences were smaller than that. It just shows the growth in CSTA and the growing strength of CSTA chapters over the last several years.
I am running into a number of people I know and meeting some new people as well. That is what makes in-person conferences so extra special.
The energy level is high here with teachers from all over New England and New York. The opening keynote was by Dr. Cheryl Swanier who talked about "Changing the Face of Technology for Social Good." Tech has a woman problem – we don't have enough of them. As part of her talk, Dr. Swanier showed this video Girls in Tech for Web Summit - Ruthe Farmer – YouTube We've been taking about this problem for a while but we really need to take our actions up a notch. The case is pretty clear. Dr. Swanier also talked about explicitly teach problem solving. Much as we'd like to think that teaching programming does that, the truth is that it has to be taught explicitly.
My first regular session was "Teaching with Minecraft: Education Edition." You'd think I would know all about this but honestly I have trouble grokking it. My grandson has seen it and thinks its cool so I figured I should learn more about it. Minecraft Education requires a license. That may limit what I can do initially. However, it looks like there are a lot of resources for teachers including lesson plans, the ability to share worlds, create NPCs (non player characters), and portfolios. There are Code Builder options for blocks, Python, or JavaScript with MakeCode.There is a demo that can be used with "An Hour of Code" and I will play with that. I was pretty impressed with what I saw today.
There were 10 or 12 exhibits at the event. One that really interested me was the Kibo robot from Robot Kits For Kids | KIBO | Kinder Lab Robotics.
These robots are programmed with blocks. Not virtual blocks! Physical blocks that cane be connected together. Once the program blocks are together the bar codes on the blocks are scanned into the robot which will execute the program This looks pretty interesting.
After lunch, we had a panel of CS/STEM leaders from the New England departments of Education reporting on what progress the states have made in the last few years. The tl;dr of it is that there are been a lot of progress. But the efforts could really use more money. States have created certification programs, made progress in getting states to require schools to offer CS courses. We've still got a long way to go. We could use more money for teacher PD. We could require CS courses for graduation. Although in several states CS courses can count for graduation credits in various ways.
Next up for me, Kathy Kleiman, Founder of the ENIAC Programmers Project, who told the story of the women behind the ENIAC. A story I have heard before but Dr. Kleinman tells it really well. I loved that she talked about the history of these women after the war. A lot of information at ENIAC PROGRAMMERS PROJECT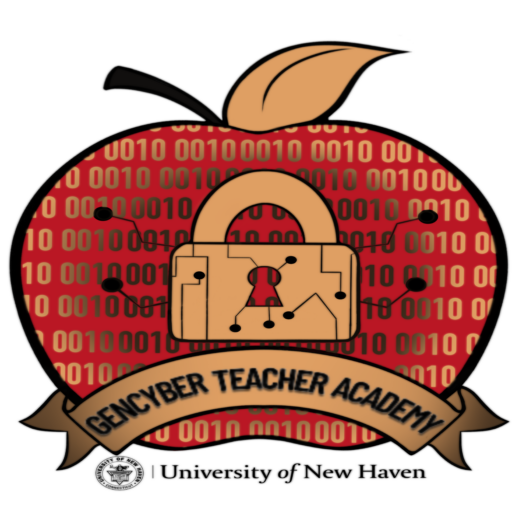 Next up for me, Gencyber Teacher Academy @ the Univ of New Haven: Incorporating Cybersecurity Concepts into 9th-12th High School STEM Curriculum.
This program includes a week long summer "camp" and follow up virtual sessions. Last year the program just included 25 teachers from Connecticut but applicants from other states are welcome to apply for next summer. Anyway, it comes with a stipend and some good free stuff. And a lot of good learning,
Last regular session of the day for me, Bring Computation to Life with the micro:bit. I love the Micro:Bit and always like to learn about how teachers are using them in their classrooms. I linked to the presentation above and on slide 7 you can find the mini project that opened the session with links to the code used. It uses the ability of the Micro:Bit to send and receive messages. You will find a lot of useful links on that slide deck including in the speaker notes.
The closing plenary involved a lot of recognition of CS teacher award winners. and door prizes!
Next year the conference will be on October 20, 2023 at the University of Connecticut Storrs. Should be a good one.