School's out for the summer! Not that I haven't been busy doing a lot of stuff I just haven't had time for during the school year. And this week I am getting ready to go to the ISTE conference after missing the last several. I am really looking forward to seeing people, attending sessions, and scanning the exhibit hall for new ideas. Look for me if you are there.
I found a new (to me) blog this week -Computing Science in Primary Education written by Phil Bagge who is on Twitter @baggiepr. Two articles there to get you started
"The job gap and growth opportunity is in computer science, not STEM" is the comment with the following graph found at the Code.Org blog (What % of STEM Should Be Computer Science?) We are not facing a STEM shortage as much as we are facing a CS shortage.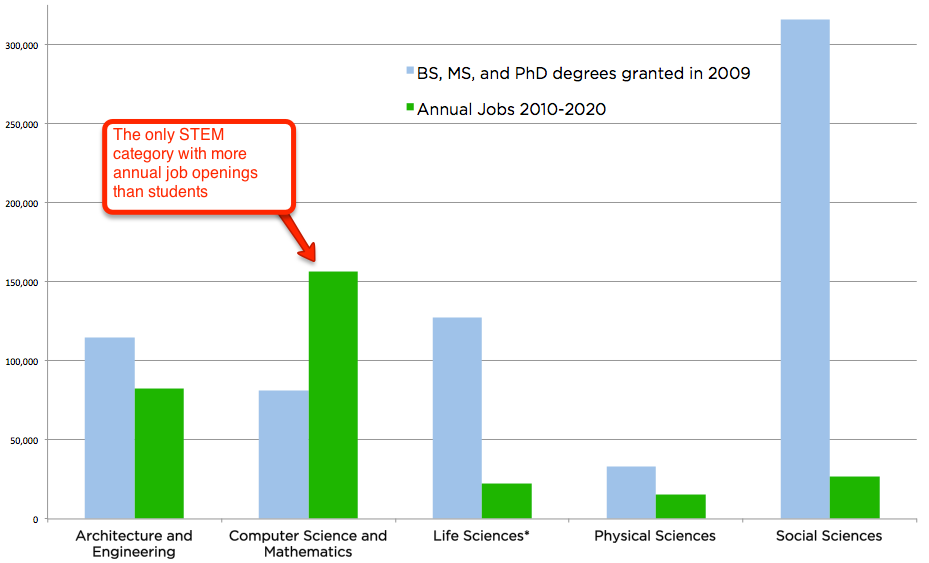 Small-Group Code Reviews for Education recently on the blog@CACM via Communications of the ACM. I keep saying I'm going to do code reviews with students but I haven't done it yet. This fall for sure.
I found a fun questionnaire for computer science people. Guess the Programming Language. Give it a try. Warning one of the languages has a name that may not be "safe for schools." There are a lot of the newer languages and fewer of the old favorites. Hint: COBOL and FORTRAN are not correct answers (or even options) for any of the questions. How well do you do on it?
Last week the CSTA Announced the First Ever Administrator Impact Award! to recognize "an administrator who has made an outstanding contribution to
K–12 computer science education."
What are you doing this summer? My latest post on the CSTA blog.
Why Computer Science Needs Women This article is from Marie Claire which is not your typical geek journal!