What a week I had last week. The CSTA Annual Conference, the National CS Principles Summit and then the CSTA Board meeting. I need a rest. I tweeted a lot from the first two events. Not from the board meeting though because that information properly comes through the Board Chair and Executive Director. It took me a while to scan though things but I believe I have some good links to share. I hope you find some value here.
I find it interesting that this is happening. Business schools are realizing that even if you are not a programmer it is valuable to be able to share some common vocabulary and experience with programmers.
B-Schools Finally Acknowledge: Companies Want MBAs Who Can Code
via Business Week
@
BW
Delphi for fun
-
looks like some interesting projects thanks to Peter Beens
@
pbeens
for the link.
One of the events of last week was the National Computer Science Principles Summit. I tweeted about it a lot but you can get a lot of the resources and videos at the
CS Principles Summit web site
.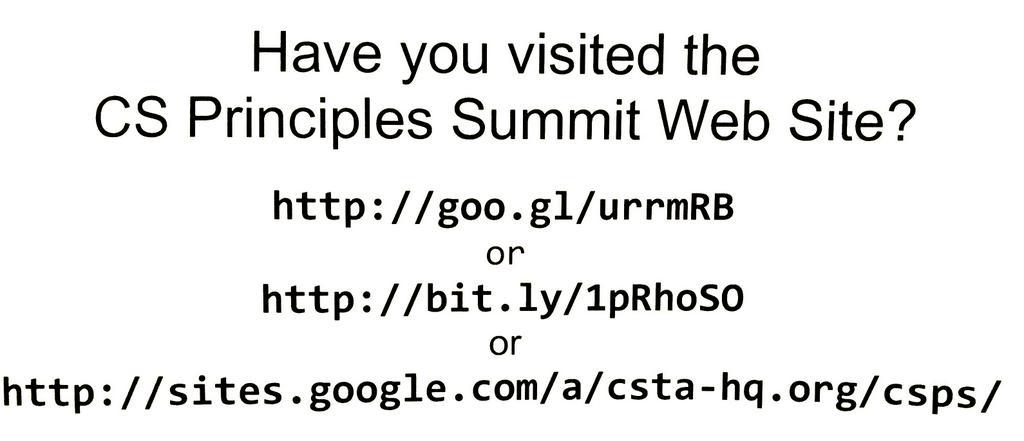 Link to Rich Kick's resources for
Computer Science Principles
An
Office Mix presentation on using Code Hunt
A good way to get a quick introduction to what Code Hunt is all about.
Interested in learning more about App Inventor? Follow the link for an online course.
http://bit.ly/1jJgUA6
HTML5 Canvas Basics handouts
http://www.missblomeyer.com/csta2014
from
the CSTA Conference.
Teachers new to programming,
nice resource for getting started
especially with CS Principles.
Resources from
computational thinking through game design workshop
at the CSTA annual conference.