This week is the last week of school for my school this calendar year. We start our Christmas break with Saturday the 20th and will be off until January. I'm looking forward to the break. Though of course like many teachers I will be using a lot of the time to catch up with school work and with work that I didn't have time for while school was in session. And maybe catch up on a little sleep.
Last week was Computer Science Education week and there was a lot going on. The President of the United States wrote a line of code. (President Obama writes his first line of Javascript) as did mayors and Senators and all sorts of other people. All in all a great week for getting some attention paid to computer science education.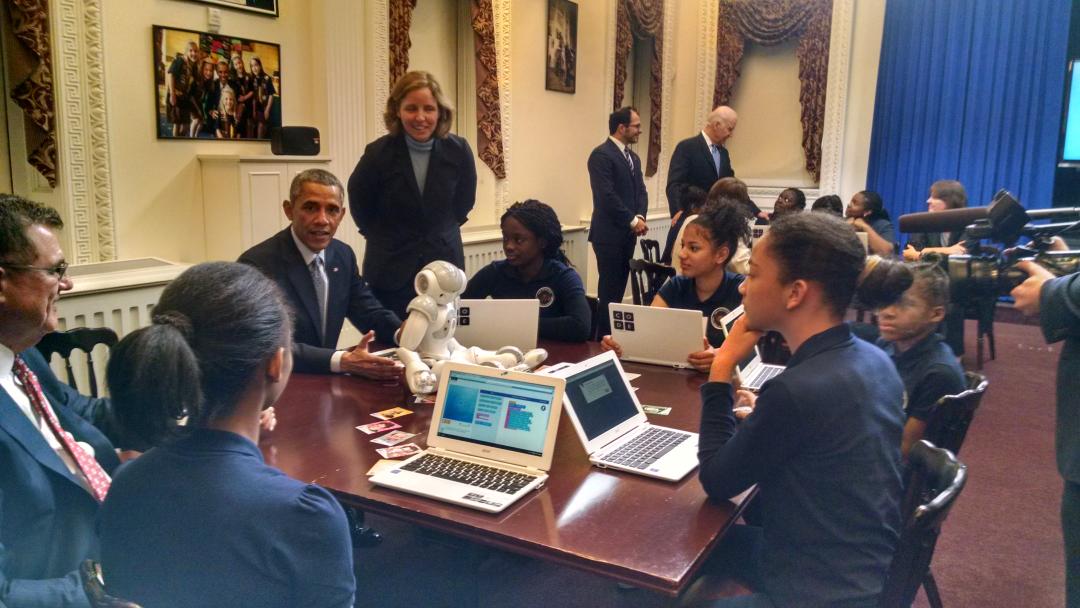 During CS Ed Week, Microsoft New England used their blog to highlight teachers with guest posts by a number of them from New England – including me. Some good posts and also a recognition that CS Education week can be about more than just an Hour of Code.
Meet our Winners of the Faces of Computing Contest! Check out the winning videos for the contest sponsored by the Equity Committee of the CSTA. Some really great videos that you may want to use for recruiting.
A comment on another post led me to this great comic version of the story of Grace Hopper's live and career.
It's official!! See the new AP Computer Science Principles Curriculum Framework. This new AP exam starts in the fall of 2016. Time to get started looking at it if you want to get it into your program of studies.
Nominate best Portrayal of a Woman in Tech! NEW Google/EIC/NCWIT SET Award!
Media portrayals are just the tip of the iceberg for making young women's first impression about technical work count. NCWIT resources can help you to encourage young women to act upon their computing interests and to understand why diversity in computing matters: www.ncwit.org/SETresources. For inspiration on pursuing careers in tech and for opportunities to try out coding, check out Google's Made with Code (www.madewithcode.com) site to learn how the things you love are made with code. It features videos of real-life makers who do amazing things with code. For introductory computer science lessons designed by Googlers, explore our CS First program (www.cs-first.com). There you'll find all the materials you need as a teacher or community volunteer to run after-school, in-school, or summer programs. More resources are available at www.google.com/edu.