The big news last week was the launch of the
CSforAll Consortium
with over 180 members committed to K12 CS Education. That was not all I picked up last week though. I'm pleased to have a good bunch of links to share with you today. Let's start with some CSTA news in case you missed it!
Have you seen the new
@
csteachersorg
Standards Video
Computer Science Teachers Association standards announcement video
.
ACM and the CSTA announced new
awards for teaching excellence in computer science
funded by the Infosys Foundation. Very exciting! Are you a good candidate? Check it out soon.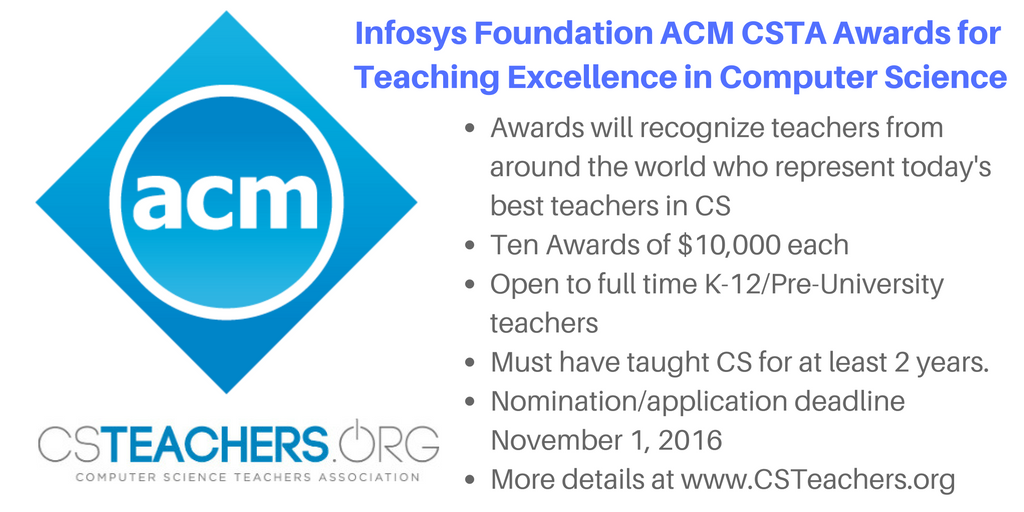 Interested in hosting a
Family Code Night
? there is a free kit for elementary schools available online. Sets start people thinking about (and in) code early.
There is a new drone programming course for schools,
Drones 101
from
@
gotynker
I think I need a drone. Are you using one or more with students?
Robot Reinforces Learning
Interesting article on the Blo0g @ACM about "Quinn provides feedback to the students through an easily recognizable facial emotion set, here smiling to indicate approval."