I meet my freshmen today! Yeah! I am excited. I'm pretty sure I'm ready. I've even got a new LCD projector. Although as someone pointed out it is a little sad that I am excited about getting the kind of equipment that just about every industry meeting room has had for a while. And they have even more tools as well. But I'm glad to have it anyway. And now a few links to share.
Searching for Computer Science: A Google-Gallup Research Report was all over my social feed this week. You can read the full report Searching for Computer Science: Access and Barriers in U.S. K-12 Education online. Some 91% of parents want more CS in schools. Only 7% of principals think there is a demand for more CS in schools and only 25% of principals say they have programming/coding/CS courses. I think many of those 25% are wrong. I wonder if principals and superintendents are reading this report.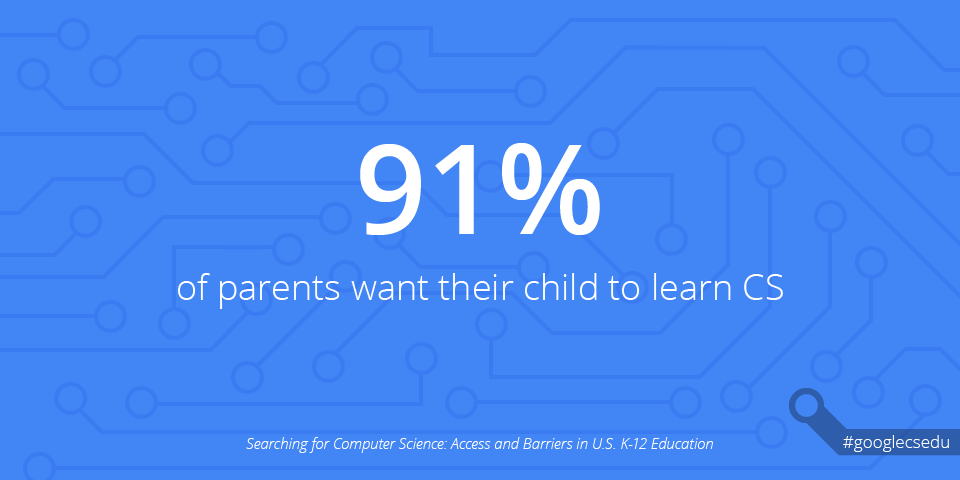 So you think you want to be a computer science teacher? Part 2. this by Garth Flint a personal hero of mine A lot of CS teachers will relate to this post by him. Especially if you are, like many are, the IT department as well as the CS teacher. I bunch of problems here we have to solve to make CS work in our schools.
Scottish siblings win global coding competition I met these two over the summer. Good kids with parents who are dedicated educators.
New video from @codeorg on the Impact of (Computing on) Innovation It's a good one!
Assistive Context-Aware Toolkit (The open source app used by Professor Stephen Hawking) is now available as an open source project via @ch9 I took a look and as you might expect it's pretty involved. I may show it to students as an example of a complex program.
CodeSpells mixes magic and coding in a game to teach programming via @codespells The video intro A Video Game That Teaches You How To Code is on @YouTube
Speaking of programming games. I spotted "It's the assembly language programming game you never asked for!" More at their web site: Zachtronics TS-100
The @codeVirginia Teachers Lounge blog has a great list of Competitions/Awards for Computer Science Students They were missing the ACM/CSTA Cutler-Bell Prize but it is still about the best such list I have seen. Check it out.
ICER 2015 Report: Blocks win--Programming Language Design == UI Design via Mark @guzdial talks about some recently released research comparing block programming to text programming as teaching tools. Makes for interesting reading.